Baked Buffalo Wings
Crispy Baked Buffalo Chicken Wings {Paleo, Whole30}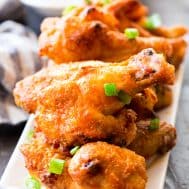 s
Ingredients
for the wings:
2 lbs chicken wings
1/2 onion powder
1/2 tsp garlic powder
2 tbsp arrow root startch
1/4 sea salt
1/4 tsp red cayenne pepper
1/3 cup melted ghee or coconut oil
1/3 cup paleo buffalo sauce
new primal brand buffalo sauce is a good one
for the ranch dip:
1/2 cup healthy paleo mayo
3 tbsp coconut cream – the thick part of the can
1/2 tsp onion powder
1/2 garlic powder
2 tsp dried chives
1/4 tsp dried dill
3/4 tsp fresh lemon juice
1/8-1/4 tsp salt or to taste
Instructions
Preheat your oven to 425 degrees. Line a large baking sheet with aluminum foil, then pace a wire rack over the baking sheet.
Pat wings dry with paper towel to absorb excess water, then place in a large bowl. Sprinkle all over with the arrowroot, garlic and onion powder, salt and red pepper – toss to evenly coat.
Arrange wings on wire rack (I had about 12 in my 2 lb package) and place in the middle rack of the preheated oven.
Bake at 425 degrees for 35 mins, then dip in the sauce (see instructions below) and raise the heat to 450 degrees.
Continue to bake for 10 mins at 450, remove from oven and drizzle remaining sauce over the top. Bake 5 more minutes at 450 degrees, then remove and serve hot, with celery, thinly sliced scallions and ranch dressing!
for wing sauce:
Once the wings have been baking for 30 mins, whisk together the melted ghee and hot sauce. Remove wings from the oven after baking 35 mins, and, using tongs, dip each one in sauce and place back on wire rack to bake again, this time at 450 degrees (see above)
for ranch dip:
Whisk together mayo, coconut cream, lemon juice, onion and garlic powder, chives and dill until smooth. Serve alongside wings as a dip, with celery or other veggies. Enjoy!
Recipe Notes
*This helps make them crispy, but can be omitted if desired.